Our List of Benefits:
13 staves, each worth $6 - total value $78.
You pay $25!
12 staves with special deals. These cannot be combined with other specials. These are the specials by number:
Buy 3 bottles, get one of equal or lesser value for free.
Th e Wine of the Month is 15% o ff
$5 off a $25 purchase, $10 off a $50 purchase.
Kim's Choice: Our Tasting Room Manager will have her favorite wine for buy 1, get 1 half o ff.
GOLD Medal Wine: Purchase our gold medal wines for 10% additional discount.
Back to the Beginning: Purchase one of our original wines for the original (2004) price.
Ghost Toast: Wines with ghostly names are 15% off.
Margo's Choice: Margo's current favorite is 10% off.
Double Discount: on 4, 6, or 12 bottles.
Name a liquor store that carries our wine for a 15% discount.
$5 off a $25 purchase, $10 off a $50 purchase.
Wine made from a fruit grown on Bittner-Singer Orchards is 10% off .
Finally - purchase a new fan for $15.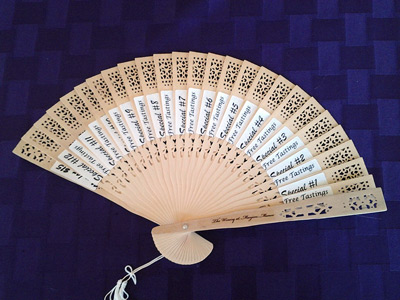 Join our Fan Club today!
Things to Know:
Fans are only good on weekdays.
You must have the fan with you to redeem the free tasting and special.
Servers will sign the fan on the stave of the special you redeem.
Fan specials cannot be combined with other specials.
You are eligible for each special once.
Only good at Marjim Manor.
When all wine specials are purchased, you are eligible for a new fan.