About the Winery at Marjim Manor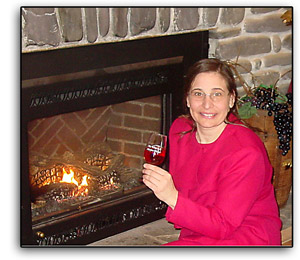 The Winery at Marjim manor is located in Western New York's fruit belt. This W.O.W. (Woman Owned Winery) is owned by Margo Sue Bittner.
The Marjim name comes from a blending of her first name with that of her husband, Jim. It is a name they created 35 years ago when they began dairy farming.
The Winery is a truly a family affair: Margo Sue Bittner is president; Margo's daughter, Janet Walker assists with sales and marketing. The fruit comes from Bittner-Singer Orchards, where Margo's husband Jim, is president. Their sons work full time at Bittner-Singer Orchards also.
The 9500 square foot mansion has a unique appearance and history. Formerly called Appleton Hall, it is built of bricks imported from Italy by its original owner, Shubal Merritt, who bought the property from the Holland Land Company. It features a wrap-around enclosed porch, carefully restored to its former glory.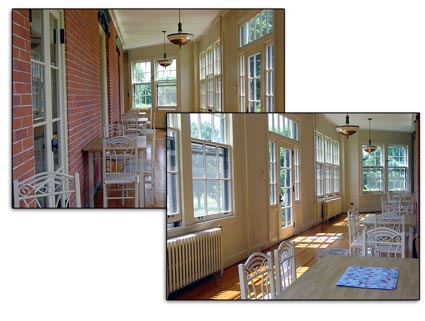 The mansion, built in the 1800's, was originally a farmhouse and later a summer retreat for the Sisters of St. Joseph convent. The house even has resident ghosts. Visit the Tasting Room to hear the whole story. No recent sightings have been reported…yet.
Even if you don't see any of the resident ghosts, you can still say hello to one of our Manor Cats!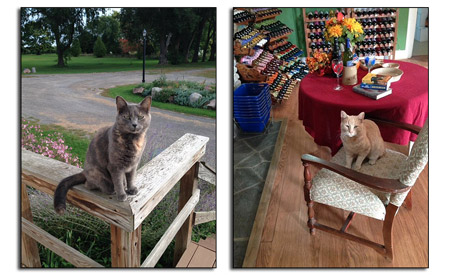 Photos: Skipper (left) and Slinky (right)
We are making an effort to have an ADA compliant site however there is not "one size fits all" when it comes to being compliant. If you, or someone you know, is having difficulty using our site please let us know so we can address the issue. Write: Website at Marjim Manor, 7171 Lake Rd, Appleton, NY 14008 or email Cheers@marjimmanor.com.