Tasting Rooms
Come and enjoy a wine tasting - complete with stories about our resident ghosts!
Marjim Manor is open for wine tasting
Monday through Saturday 10:00 am to 6:00 pm
and Sundays noon to 6:00 pm.
Tastings: $5 for 4 Tastes
We now offer a $8/person Tasting Package Deal
*
All customers are eligible for this great deal! Perfect for those interested in a keepsake wine glass from their visit to the Manor.
Everyone gets:
4 tastings
Keepsake wine glass,
10% off any wine purchase

Please note: 48 hour cancellation notice required.
*Required for Groups of 6 or more, especially limo and bus wine tasting tours.
Reservations are available Monday - Saturday from 10 AM until 3:30 PM, Sunday Noon until 3:30 PM. Absolutely no buses or limos are admitted after 4 PM. Please make your reservation online or call the winery to be placed on our list. Groups with reservations will be given preference.

Please click here to read our Visitor Guidelines for Individuals and Groups.
Marjim Manor now has three Tasting Rooms!
Two rooms include beautiful lake stone fireplaces. The third tasting bar flexible and can go anywhere - on the enclosed porch, outside or to events. We can accommodate almost any event or celebration!
Period items on display throughout the Manor. Our winery boutique is filled with wine, fruit and local specialty gift items. We now have an ATM available during business hours for customer convenience.
Marjim Manor now has a second location - Marjim at the Falls!
We are inside the Niagara Falls Culinary Institute, right next to the main entrance.
The address is: 28 Old Falls Street Niagara Falls, New York 14303.
Hours: Our hours at this location vary. Please check our Marjim at the Falls Facebook page for current hours and more information, or call us at 716-778-7001.
Directions to our Niagara Falls location.
Join our Case Club ~ 12% off a case of wine.
Buy 12 cases and the next case is free.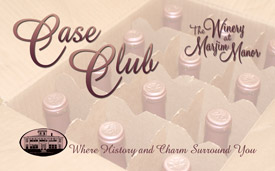 More Information about our Case Club.
Gift Certificates are available.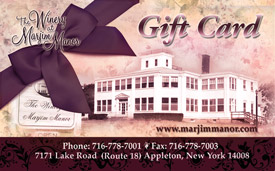 Making a Toast

Will you be making a toast in the near future?

Most Toasts are about 3 to 4 minutes long. It helps to practice what you are going to say out loud. Some people find an index card with three or four key words help them stay on track.

Remember the three "B"s
of giving a toast:
Begin, Be brief, Be seated.

Important Notice:
Non- alcoholic beverages always available to those under 21.
Please note that open container laws DO apply to our winery. We appreciate them kept inside your limo,bus or car as they are not allowed on the grounds or inside of the winery. Laws do NOT permit us to open your bottle of wine.
We are making an effort to have an ADA compliant site however there is not "one size fits all" when it comes to being compliant. If you, or someone you know, is having difficulty using our site please let us know so we can address the issue. Write: Website at Marjim Manor, 7171 Lake Rd, Appleton, NY 14008 or email Cheers@marjimmanor.com.