Hours, Drections and Map of Manor Interior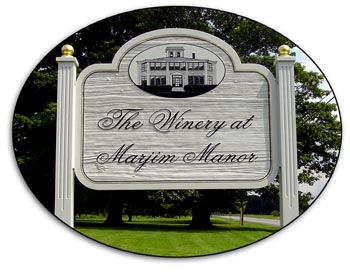 Hours
We are open:
Monday through Saturday 10:00 am to 6:00 pm
and Sundays noon to 6:00 pm.
We are closed New Year's Day, Easter, Thanksgiving and Christmas.
Notice: BAD WEATHER + WINTER HOURS:
If Barker and Newfane Schools are closed due to bad weather,
The Winery at Marjim Manor will be closed also.
The Winery at Marjim Manor is handicapped accessible.
Directions
Local landmarks to help you find us:
From the West: After Hess Road, Baehrs Ice Cream on the right; Lake Pointe Drive on the left, then the Manor on the Left.
From the East: After Hosmer Road, look for the Sign for the Town of Newfane: we're the second house you see.
Our GPS coordinates:
78.63888 degree W
43.34839 degrees N


If you pass us, please do not turn around in private driveways. We have many young children nearby.
Map of the interior of The Winery at Marjim Manor