Want to Host a Murder Mystery?

There are many exciting plots from which to choose:
B'gosh and B'gorrah, It's Murder!
The annual Celtic Festival has begun. Although everything seems to be running smoothly, there is a major glitch. Festival libations chair Jameson Smithwick is dead. Jameson provided the Fest with the best beer ever! Beer keeps people happy! Why didn't he? Who did in the libations chair?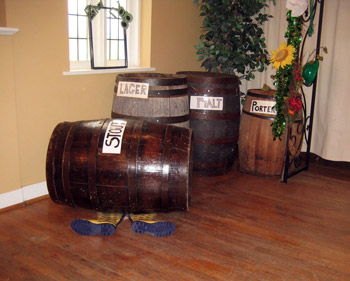 B'gosh and B'gorrah, It's Murder!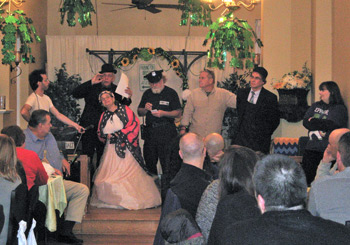 B'gosh and B'gorrah, It's Murder! cast in action
Curtains!
It is dress rehearsal for the Murder Mystery Dinner, Murder on the S.S. Marjim. The actor playing the murderer is late. Who turned the tables on Burton Richards?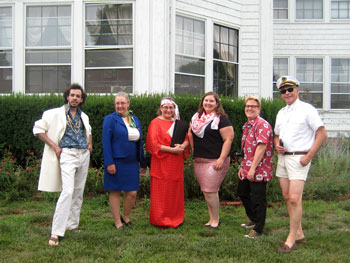 Curtains! cast!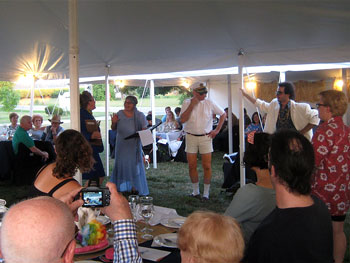 Curtains! performance!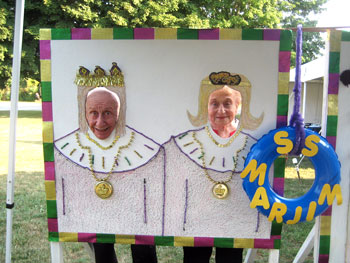 Curtains! fun!
Murder is Brewing!
Dowager Countess Scarlet is fond of hosting High Teas. She expects anyone who will inherit her fortune and her Estate to attend regularly. She inherited the property from her parents Violet and Sage. Normally, the oldest son would inherit. Not only did Hunter run off with a commoner, but he had the audacity to die young. Scarlet feeling generous raised his two children, Sterling and Slate. Her sister Hazel married Baron Jet, meaning that her royal status declined so she was not eligible to inherit. Scarlet was aided in running the estate by her husband Grayson and Concierge Pearl. However, lately, Grayson has been hanging around with some ale swilling, cigar smoking Lords, especially that ne'er do well Rusty. When Countess Scarlet does not appear to pour tea, something is wrong. Who knew she'd be found dead in her chambers? Only the murderer...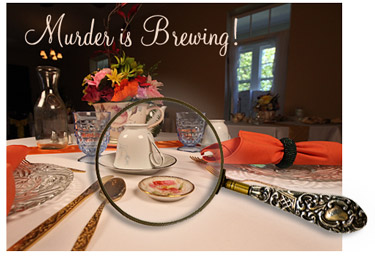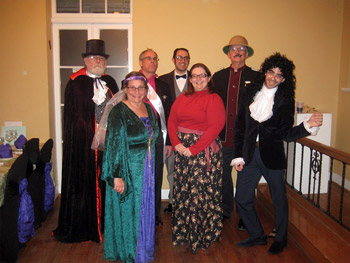 Murder is Brewing cast!
It's a Bird, It's a Plane, It's Murder!
The Superheroes are getting ready for their annual evaluations. Beloved leader Stewart Patrick (Mr. P.) is about to deliver the good and bad news when he is found dead. Who was about to be reduced to the ranks of ordinary citizen? Lightning Bug: Lights up every room. Sometimes by entering, sometimes by leaving, sometimes by arson. Or Kelly James: Knows how important sports are. Has a way to give the Bills the Stanley Cup and the Sabres the Super Bowl in the same year. Maybe it was Mother MacRay: Can pair all socks as they come from the dryer. (The drunker she is, the faster it happens.) Or Katerina: Has the power to herd cats. How about Bonne Bonne: Has the ability to turn any food you don't like into chocolate - except Brussel sprouts or The Conductor: Can turn a train whistle into any instrument he wants. Then he can bring the joy of music to all those little people who need their lives brightened. Help Cora Spondent the local reporter who wants to know the real story solve the mystery.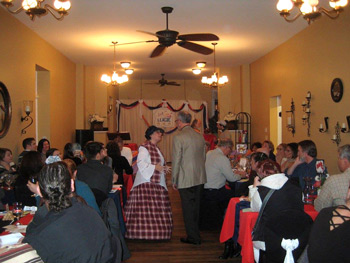 It's a Bird, It's a Plane, It's Murder!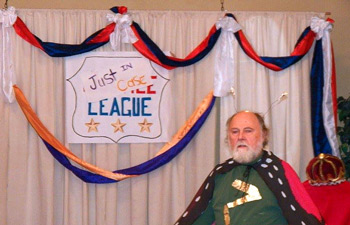 It's a Bird, It's a Plane, It's Murder!
Lights, Camera, Murder!
As the Roaring 20's come to a close, author Fitzgerald Scott's epic novel Just North of Olcott is made into an Oscar winning movie. However, he never made it to the gala party following the ceremony. Who did in the insufferable writer? Was it Director Custer Beaton or Actor Barry Johnmore or Actress Gillian Lish? Maybe it was Screenwriter Lewis Sinclair or Hotel owner Hilton Statler or Set Designer Caroline O'Leeffe.?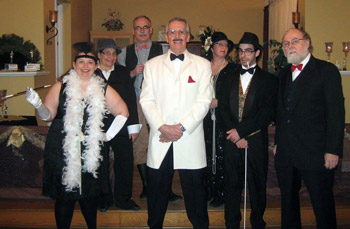 Lights, Camera, Murder!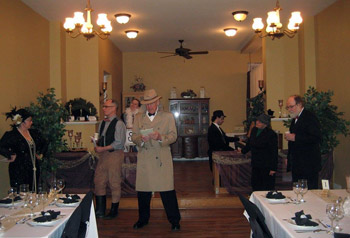 Lights, Camera, Murder!
Anchors Away
It is the night of the big Grand Opening for Dolle Salvador's new Art exhibit at the Penney Knox Art Gallery. Only the cream of society is invited to the invitation only event. Local news anchor W. Einstein Irving is scheduled to be the Emcee. However, he doesn't make it the podium even once! Who sent the Anchor Away?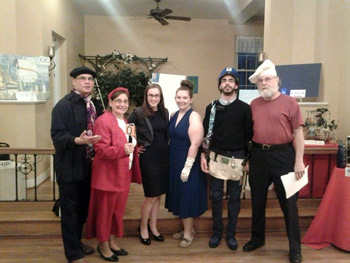 Anchors Away cast of questionable characters
It's Mervelous!
Join us at taping of that new talk show, It's Mervelous, hosted by everyone's favorite host, Griffen Mervelous. Unfortunately, just before showtime, his assistant Sullivan Edwards is found dead in the Green Room. Could one of his guests be a murderer? You can interview Astronomer Dob Johnson, Film Director Stefan BergenSpeil, Author Areta Wright, Politician Anne Belva Woodlock, Televangelist Billy Bob Swagger and Sports Star Kelly James.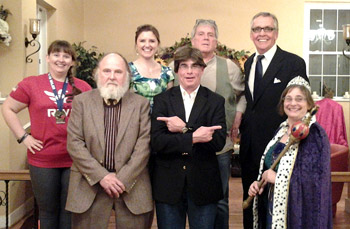 Murderous Cast of It's Mervelous!
Mall's Fair in Love and War:
Who Murdered Saul Paul Ball for his Shopping Mall? Many of the suspects own shops in the mall. Was it Violet Bluestein, owner of the Paint the Town Read,a book store? May Taggert owns Three Sheets to the Wind, ecological clothes dryers. Another suspect is L. C. Cobbler, who's store Tie One On, sells shoelaces for every occasion. Pet Hat Store owner, Kay Nein calls her shop Ears to You. Let's not forget maintenance man Jan Itor. A final suspect, Sven Galli, calls his store Under the Influence: Hypnotism for every occasion.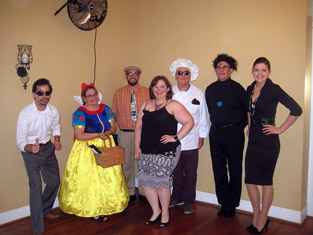 Mall's Fair in Love and War cast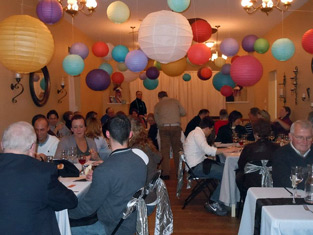 Mall's Fair in Love and War
Murder on the Aragain Trail
The members of the Aragain Wine Trail had an outing that including visiting the Roller Coaster in South Tonawanda, lunch at a restaurant and dinner on the Cataract Chief. However, before they left the boat, winery owner Charlotte (Char) Donay was murdered! Which winery owner or wine maker did her in?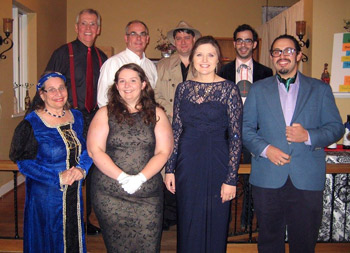 Murder on the Aragain Trail cast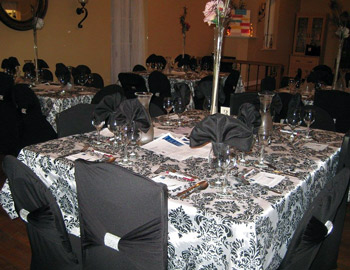 Murder on the Aragain Table Settings
We're Not Afraid of Virginia Wolf
It is election time at the Storybook Characters' Union meeting. As accountants Dewey, Cheatem and Howe are tabulating the results, a shot rings out. Challenger Virginia Wolf is dead. Which storybook legend did the deed?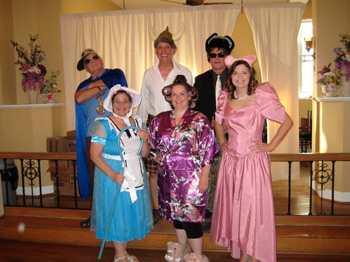 We're Not Afraid of Virginia Wolf cast
Who Expunged the Petulant Princess?
Lord Clement the Quarrelsome and his wife, Lady Rosabella the Gracious, are holding their annual ball. Their daughter, Lady Gwendolyn the Whimsical want to announce her engagement to the local tailor, Leland the Magnificent. The Lord and Lady have invited their niece, Duchess Seraphina the Enlightened to help bring their daughter back on track. Maid Bridget the Enigmatic and Butler Oswald the Organized attempt to keep everything on track. As the gala begins, the heir to the throne, Princess Dona the Supercilious is found dead.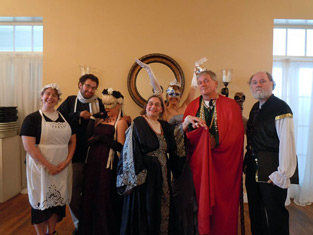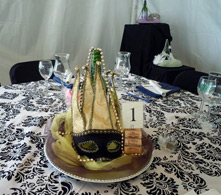 Who Expunged the Petulant Princess?
Who Bounced the Bouncer:
Prohibition doesn't mean much at the Under the Falls speakeasy. Patrons and employees both kept the location under wraps. However, the Feds got word that there was a big delivery on its way. The pressure was on to promote temperance and arrest the perpetrators. Time and time again, the Feds were foiled. Not only were they trying to figure out who were the patrons and who were the employees at Under the Falls, but the nickname each person had made the job even tougher. Benny the Bouncer loved using nicknames. Who were The Snake, Iron Lady, the Assassin, Mad Dolly, Ice Tongs, and Queen Bee? The suspects are: Sharlene Shaplin: Owner of Under the Falls, K. Medgar Cooper: Head of the local crime family, Wanda C. Hardy: The local political bigwig, Cal Apone: Under the Falls' own barfly, Lindy Charles: Pilot who delivered the booze, and Dewey Legstrong: This band leader. Help Nethanial Elliot (Known as Neth) Cop on the beat solve the crime.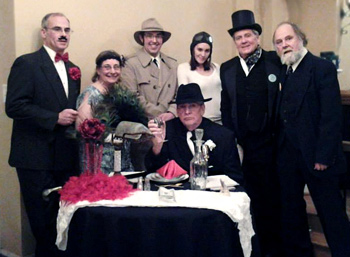 Who Bounced the Bouncer?
Principal is NOT my Pal:
High School Principal Erastus Dean thought he was the King of Aragain High School. Officially his title was High School Principal, but he preferred to be the Dean and asked that the students call him "Dean Dean." He could do or say anything and, like the Teflon Don, could get away with it. Being a former history teacher, he should have known that people remember what happened. Who knew the Principal was not a pal? Drama Queen: Wilma Spearshake, Nerd Einstein Alberts, Class Clown Shirley Ujest, Tattletale Squeaky Wheeler, Activist: Jamie Hoppa, Class President Ivy Halls, or Jock Jordan Michaels.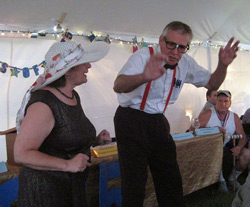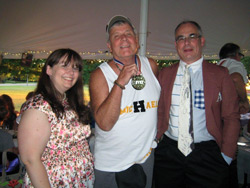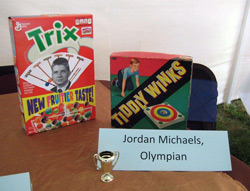 The Principal is NOT my Pal
Fall from Grace:
She fell from Grace! It is the night of the annual Aragain Halloween Masquerade. Anyone who is anyone is invited. The town's prodigal daughter, the famous actress Kelly Grace has decided to crash the party. Before the night is over, however, she is dead. Who murdered the town's only claim to fame? Party Hostess Andrea Carr Negie? Host: Morgan Pierport Negie: Event Planner: Shay May DeMoney, Louise Tina "Ginger" Summers who wanted to turn the party into her wedding, ,Groom Howell Thurston IV, Judge James Jesse, Florist: Chris Anne Themum, Banker: Pennsylvania (Penna) Teller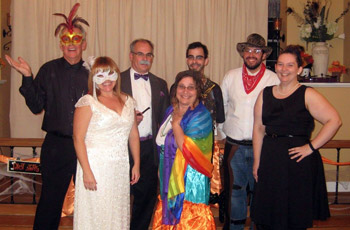 Fall From Grace
3 Rings to the Wind:
Uncle Dinagaling's Cheesiest Show on Earth has arrived for its annual show. On opening night, Human Cannonball, Buck Shot, is ready for his act. He climbs into the cannon and is propelled to his net. However, he dies not get up. Buck Shot will fire no more. Would Uncle Dingaling harm his popular act?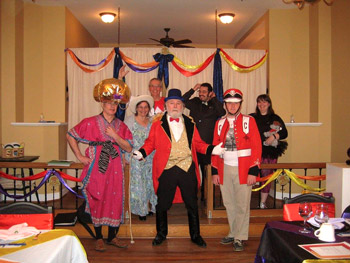 3 Rings to the Wind
Lion Overslept Tonight:
For those who are Lions Club members, a murder mystery with a Lions twist!
Glo Knight and the Seven Gnomes:
Mirror, Mirror on the wall who killed fair Glo Knight? The gnomes found poor Glo on the floor dead after their day working in the gem mines. It was quickly determined she'd died by way of a poisoned banana! Help Queen Marta Stuarta determine which gnome killed poor Glo. Was it Cheeky, Dipsy, Fuzzy, Stuffy, Sparky, Zany or Roc?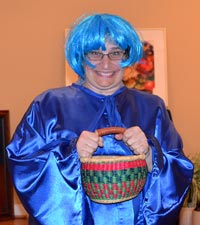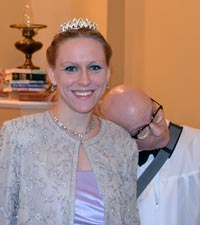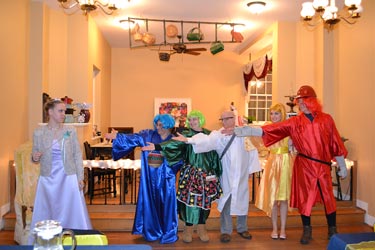 Glo and the Knight and the Seven Gnomes
Photos by Artistic Chaos http://www.facebook.com/IvyArtisticChaos
Murder on the S.S. Marjim
Someone aboard the cruise ship has spoiled Capt. Jack Starling's anniversary reception by doing the dirty deed to lawyer Mason Perry and it's up to you to analyze the facts (ma'am) and figure out who dunnit. Was it his assistant Stella Dreet? Ship Captain Jack Starling? Bartender Bart Ander? Cruise Director Bateau D'Amour? Lounge Singer Nell Storme? Or Ship's Photographer Pappi Ratzi?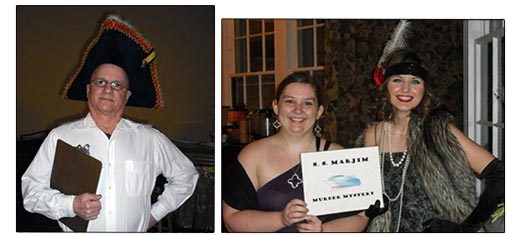 Murder on the S. S. Marjim
Madd Hatter Murder Mystery
At the annual Hat Debut, a round of Clean Cup cleaned the clock of Hat Maker Millie Nerton. Follow fellow hat lovers to figure out who killed the Mad Hatter. Have even more fun when you wear your favorite hat! Meet the local characters - and characters they are: Farmer Aggie Culture, Mail Carrier Bruce Buttinski, Tour Guide Alison Wonderski, Politico Blanche Hassenfeffer, Orator Henry Patrick, Police Officer Tam O'Shanter or Librarian Biblio Phile.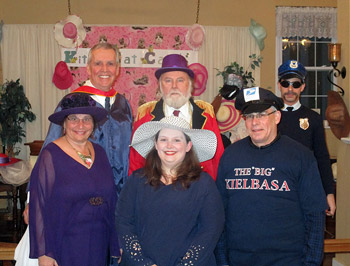 Madd Hatter cast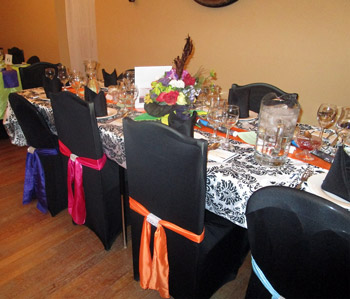 Madd Hatter Murder Mystery
How it works:
For a private Murder Mystery Show the cost is $2,000 for the performance. This includes all the acting, supplies needed for guest use (pens, ballots, etc.), as well as two prizes for the correct answer drawing.
The Winery at Marjim Manor can accommodate 50 guests. We can also travel to another venue should you wish to have it elsewhere.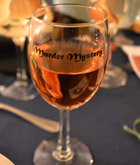 If you wish to make the performance a dinner theatre, Marjim Manor will provide a 4-course meal with 4 glasses of wine specially paired to each course, and each guest will receive a keepsake Marjim Manor wine glass.
Additional cost for the 4-course dinner is $35/person, plus tax & tip.
PLEASE NOTE: minimum of 20 Guests
You can make arrangements for a Murder Mystery by calling Margo at (716) 778-7001
or email Margo at: Margo@MarjimManor.com.
We are making an effort to have an ADA compliant site however there is not "one size fits all" when it comes to being compliant. If you, or someone you know, is having difficulty using our site please let us know so we can address the issue. Write: Website at Marjim Manor, 7171 Lake Rd, Appleton, NY 14008 or email Cheers@marjimmanor.com.