Bridal Showers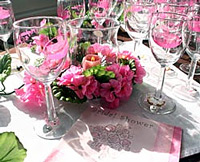 Host a shower with Winery at Marjim Manor.
We offer a variety of venues, from our Chapel Salon, to the front porch, to outside. No matter which you choose, we create an atmosphere to make your event a memorable one.
If you wish we can provide decorating suggestions, to set the mood for your event. Tell us what you envision for your day, from timing, to decorations, and we'll help make it happen.
Past guests have enjoyed:
Bridal Victorian Tea:
Something old, Something new,Something borrowed, Something blue, A silver sixpence in her shoe. Why do we have these bridal traditions, and what are there meanings?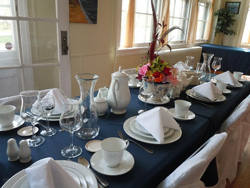 Enjoy a four course meal as you and your guests find out why you'll be participating in these traditions on your wedding day. A private wine tasting can be provided before your tea.
- Or -
Enjoy one of our other themed Victorian Teas. Each tea features a four to five course meal, tea, presentation of each course, and a small presentation of the theme. Please go to our Victorian Tea Parties page for more information on our popular teas.
Three Course Luncheon: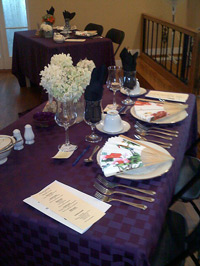 Enjoy a three course sit down luncheon with choice of white, grey, or black linens, and napkin color of your choice. Candles on each table. Private Wine Tasting for each guest for the first hour of your shower.
F
our Course Luncheon:
Enjoy a four course sit down luncheon. We have various options to choose from. If you don't see something that you would like, let us know, we are always happy to personalize our menus.
Choice of white, grey, or black linens, and white or black chair covers. Choice of centerpiece. Private Wine Tasting for the first hour of your shower with Cheese and Crackers.
Room Rental:
Should you want to rent the room and hire your own licensed caterer, there is a kitchen use fee. The room accommodates up to 52 guests and we can provide white linens, chairs, and tables for three hours. You would be able to come in one hour before your shower to decorate and set up any additional decorations that you like.
Should you wish to use our china, we can provide china and cutlery at an additional charge. Coffee, lemonade, and hot tea station, as well as, bar service and private wine tasting is also available.
For more information and to plan your shower,
please call Margo at 716-778-7001
or email margo@marjimmanor.com